Membership Benefits
Community Recognition
A membership decal displayed at your place of business identifies you as an investor in the Chamber and our community
Your membership is an affiliation and identification with an organization of  nearly 300 members that serves as the primary and most influential business advocate in our community.
Networking
Chamber membership allows you to connect to develop relationships, make contacts and share information and advice.
Expose your organization to potential clients and customers and meet local service providers at Chamber networking activities including Business After Hours, Membership Dinners, Workshops and Committees, Lunch and Learns and more.
Chamber members can get involved with issue-based committees, including Travel and Tourism, Membership, Advocacy and Policy and ad hoc committees.
The Chamber offers seminars throughout the year for its members. The seminars are presented by professionals in the business industry to assist and educate our members in the operations of their business.
Referral Services & Exposure
The Chamber acts as a resource center for visitors and individuals interested in relocating or learning more about our community. Distribute your business cards, literature and information at the Chamber's Visitor Center, which receives nearly 100,000 visitors annually, at no cost.
The Chamber receives thousands of requests each year for recommendations on goods and services purchased in the area. We refer only Chamber Members to newcomers, visitors to our area and residents of our community.
Marketing Opportunities
Marketing your business with the Mitchell County Chamber of Commerce is a cost-effective way to gain exposure for your business, attract new customers . Many cost-effective opportunities are available with your Chamber membership including:
A free listing in our online membership directory, with links to your business e-mail , website addresses and social media links.
Free business announcements in the weekly Chamber e-newsletter, with a distribution to hundreds of  business owners and community members.
Free listings on the Chamber's online Calendar of Events.
The Chamber can provide your business with contacts for North Carolina Welcome Centers, travel writers and tour operators which provides you with a greater opportunity to promote your business.
Opportunities to showcase your Business at a Business After Hours Event: Exhibiting your company's products and services is an affordable and effective way to maximize business contacts and get recognized! Contact the Chamber if you are interested in hosting a Business After Hours Event.
Host a Chamber Event: Open your doors to the business community by hosting a Chamber event! There's no greater visibility! Inviting others to your place of business will put them in front of your services and allows them to engage with you – building your brand.
Network at Upcoming Chamber Activities: Make connections with fellow Chamber members at one of the Chamber's programs and events.
Share your Expertise: Do you have insight or expertise in a particular field? Share your knowledge and gain recognition and visibility by speaking at Chamber event or workshop.
The Chamber can organize a ribbon cutting event for your new business or expansion and will also contact the media to attend and cover your ribbon cutting.
Value of Membership
Business Networking
Powerful Connections
Leadership Training Programs
Marketing for Your Business
Return on Investment
Business Advocacy
Collaboration with other Businesses
Discount Drug Card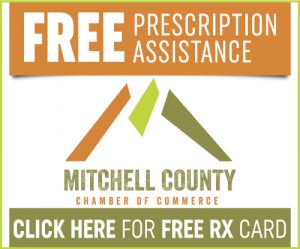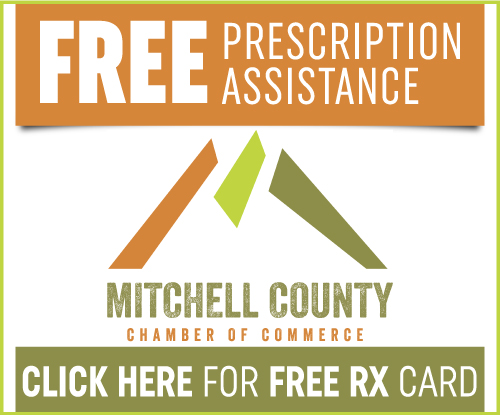 The Mitchell County Chamber of Commerce  is proud to offer you and your family/friends a FREE DISCOUNT DRUG CARD. Receive savings of up to 75 percent at over 56,000 pharmacies across the country (savings average around 30 percent). This card is especially helpful if you are uninsured or underinsured. However, even if you have insurance, you can still use this card to get a discount on non-covered drugs. All prescriptions processed through the program are completely confidential (no name required on card).
This program also includes discounts on Eyeglasses, Hearing, Diabetic Supplies, Dental, and more. This card is pre-activated and can be used immediately! Print a card for yourself, employees, friends and family here.