The 2019-2020 year did not turn out like any of us would have expected.
At the Mitchell County Chamber of Commerce, we began the fiscal year with great plans for new programs and benefits for our members as well as a new 2019-2020 marketing plan to market our county.
But as we were barely into the new 2020 year, we were thrown for a loop   Regroup and adjust have become keywords not only for the Chamber but for many of our businesses. But to be honest, what we think of when we think of the past year and our businesses is endurance.
We worked tirelessly to be responsive to the changing times, to keep businesses informed and to provide programming that supports businesses' changing needs.
We were heartened but not surprised at the outpouring of support by our community for their neighbors, by businesses adapting to trying times and innovating to meet needs, and by those showing leadership on many fronts.
This community truly does endure. As we strive to overcome challenges and to affect change in the coming year, that enduring trait will serve us well.
Best Regards,
Patti Jensen
Executive Director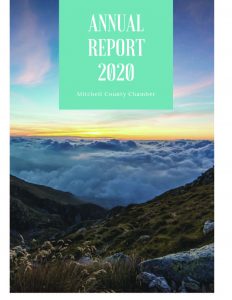 Click Here to View the 2020 Annual Report