Stay tuned as we report on the blooming of the amazing catawba rhododendrons atop Roan Mountain, NC! It's June, which means our mountain will be turning pink and you can be with us to witness it! Over 600 acres (the world's largest naturally growing rhododendron garden in the world) of beautiful pink catawba rhododendron bloom each June.  They usually cooperate with us and peak just in time for the NC Rhododendron Festival in Bakersville the third weekend in June. Come and celebrate with us!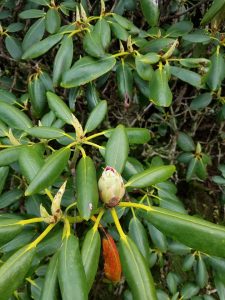 June 3, 2018 Report
There looks to be a 50% bloom this year. The buds are beginning to swell in the gap and a few in the gardens.
If the weather stays true to predictions for the coming week there should be lots of pink in the gap and on top by the weekend.
Real color should begin mid to late the following week and from Rhododendron weekend on through the next week should show plenty of bloom barring any heavy rain.
On another note the gravel loop road to the overflow parking lot and around to the Bluff parking lot is in pretty nasty shape. Weather has been rough up there this spring. Be aware of maintenance should you venture up there this week.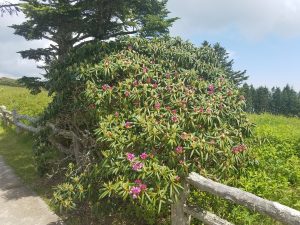 June 10th Report: Still looking at 50+% and color showing now with good color for the next couple of weeks.