In an effort to support local shops that make our communities strong, American Express launches Small Business Saturday on the Saturday after Thanksgiving to encourage
people to Shop Small and bring more holiday shopping to small businesses.
One year later, as the 
Shop Small
 Movement gains momentum, local officials across the nation take notice and promote 
Small Business Saturday. 
In 2011, the Senate unanimously passes a resolution in support of the day and officials in all 50 states participate. It even gets a shout-out from the president of the United States.

In 2013, more than 1,400 individuals and organizations sign up as Neighborhood Champions to rally their communities with events and activities on 
Small Business Saturday
 — and that
number continues to grow. By 2017, there were more than 7,200 Neighborhood Champions across all 50 states. They're not alone. Beginning in 2011, business associations, nonprofit trade groups, municipalities, and public officials started to unite by forming a 
Small Business Saturday Coalition, 
encouraging everyone to Shop Small. And nearly 100 corporations lend their official support to the movement.
Small Business Saturday
 continues to be an annual holiday shopping tradition — just one part of the larger 
Shop Small
 Movement to support small businesses every day and everywhere.
Because a visit to the family-owned framing shop or a stop at the neighborhood taco truck not only supports our local economies, but also promotes thriving communities.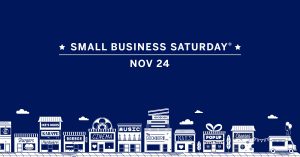 In Mitchell County, we will be celebrating Small Business Saturday in all three of our towns.  Bakersville, Little Switzerland and Spruce Pine will be hosting Open Houses, special events and even a parade in downtown Spruce Pine on Saturday Nov 24 at 6 PM.
Celebrate our local businesses this year and give them the gift of your presence, your support and a little of your shopping list too!  Check our calendar for events!