The Mitchell County Chamber of Commerce partnered with seven area county Chambers and organizations to create the Neck of the Woods Trail, a culinary trail featuring area farm to table restaurants, farmer's markets, breweries and wineries.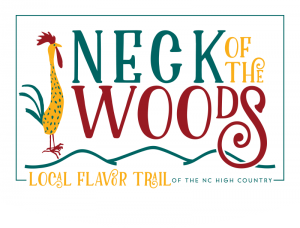 "This was a great opportunity for us to work with our friends in the region to promote our wonderful local businesses in Mitchell County who feature local foods and culture," said Patti Jensen, Executive Director of the Mitchell County Chamber of Commerce.  "Our hope is that this trail will be another tool in our efforts to market our beautiful area and our innovative businesses."
A recent article by CNN Travel called the trail "One of the "World's Most Enticing Food & Drink Trails".  "We were excited to see the national coverage that was generated at the launch of the Neck of the Woods Trail and especially happy to see some of our own Mitchell County businesses highlighted in the article," said Jensen.  We will have printed maps of the trail soon and will make these available to our visitors who stop in the Mitchell County Visitor Center.
From CNN Travel: North Carolina's High Country is part of the eastern United States Appalachia region, an area known for its homemade jams, farmstead cheeses, fresh apple cakes, and sour corn.
These culinary offerings can be experienced along the 
Neck of the Woods flavor trail
, a curated selection of everything from you-pick farms to cider houses, all with one thing in common: a passion for regional heritage.
There are nearly 100 businesses marked on Neck of the Woods' interactive online map, each one color-coded to a particular category (eg. farm-to-table dining; vineyards & wineries), making it easy to create self-guided tours.
Highlights include stops like Spruce Pine's Tin Shed at Soggy Bottom Farms, home to slow-roasted BBQ pork sandwiches and buttermilk, pecan, and berry-filled pies; and 
Mitchell's Oak Moon Farm & Creamery
, a micro-dairy specializing in small-batch, raw milk goat cheese.